November 28, 2014
On-going Events This November and December
December 25, 2014 Public rally from Mnazi Mmoja ground to Karimjee hall. Nationally this has been organised by WiLDAF, TAMWA is among the major stakeholders and will fully participate.
This year theme is "OPEN UP! DISCLOSE GENDER BASED VIOLENCE FOR THE HEALTH OF THE COMMUNITY"
December 2, 2014 CRC –TAMWA one day education awareness session with Kinondoni and Kitunda-Kivule paralegals at TAMWA conference centre.
December 5,2014 CRC will hold a one day counselling for clients at TAMWA grounds, (counselling will be in a form of group and one by one).(Bring your neighbour, sons and daughters)-We are going to invite a Specialist Counsellor who is going to team with CRC. Click here for more activities.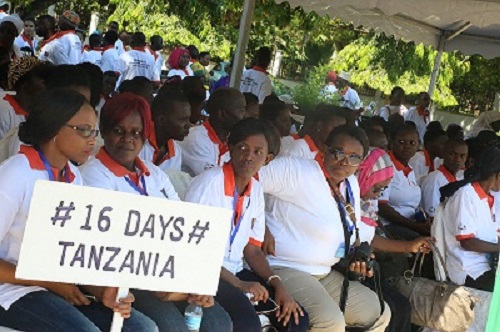 July 17,2014
 SUMMARY REPORT ON PARALEGAL TRAINING HELD ON 15TH  – 16TH  JULY 2014 AT  TAMWA OFFICE DAR ES SALAAM
 1.  About Training
CRC - TAMWA conducted two days training to twelve Paralegals from Newala, Ruanga,Lindi Rural and  Kinondoni - Dar es salaam.
This took place  on 15th  and 16th July 2014 at TAMWA Conference Room, Sinza Mori.
2.  OBJECTIVES
To know their challenges especially in providing Legal Aid services and counselling;
To raise awareness on Laws relating to public issues like the 'Marriage Act', 'Land Law,' 'Inheritance Law' etc. and
To overcome  challenges and  improve better services.
3. Training Team
The Facilitators for the training were the Excecutive Director of TAMWA, Ms.Valeria Msoka; CRC-Coordinator – TAMWA Ms. Gladness Hemedi Munuo, Social Worker CRC- TAMWA Ms. Marcella Lungu and Legal Officer of CRC – Tamwa Ms.  Loyce Gondwe
4.  Areas Covered
Training Objectives;
The Law of Marriage Act of 1971;
Ward Tribunal and Village Council;
Probate Act and administration of the Deceased Estate;
Court System;
By Laws;
How to provide counseling; and
General duties and obligation of Paralegals.
July 14,2014
Up coming events this July,2014
Crisis Resolving centre (CRC) will conduct Paralegal Training that will commence on 15th to 16th of July, 2014 at TAMWA Resource Centre where by Paralegals from Kindondoni, Newala, Lindi rural and Ruangwa districts will come together to learn and share legal issues related to Gender based Violence (GBV) facilitated by GEWE II:GBV component project.
Crisis Resolving centre (CRC) provide Legal Aid Services every Monday to Wednesday and is opened at  09:00 AM and closed at 03:00 PM.
20.12.2013
CRISIS RESOLVING CENTRE (CRS)

From January to December 2013 CRC attended a total of 2878 clients for the three districts of Dar es Salaam region. Of these, 2470 were from Kinondoni district, 250 from Ilala district and 158 clients from Temeke district. These cases were on matrimonial disputes, Probate, Child maintenance, child abduction, land disputes, rape and family abandonment.
With TAMWA being recognized in its fight against GBV, the CRC received 30 cases clients from other regions seeking services. These included two young girls who had run away from Hanang', Arusha to escape FGM and child marriage.
In building the capacity of the response mechanisms, CRC trained police gender desk officer from different police posts in Kinondoni district on handling of domestic violence cases. Another training was conducted for 60 paralegals from Kinondoni, Newala, Ruangwa and Lindi Rural district on handling gender based violence cases in their villages.
On a daily basis CRC has managed to:
1. Support women and children survivors of gender based violence in terms of food, cloths shelter and education.
2. Reunite children with their mothers – those who were forcibly taken from their mothers.
3. Provide capacity building to women to enable them to defend their rights in public.
4. Reach both the perpetrators and survivors of domestic violence/gender based violence and educate them on the rights of women and children and the negative effects of GBV on their children and the society.
5. Protect survivors of domestic violence especially underage girls who were forced to stop school in order to get married.